WHAT DOES WAVES STAND FOR?
W-ater, A-dventure, V-oluntourism, E-ducation, S-ustainability
WHY DO I NEED TO PAY TO VOLUNTEER?
WAVES requires that volunteers make a Volunteer Contribution and pay a Program Fee that covers  all of their living expenses during their service. Additionally the Program Fee makes it possible for WAVES to offer volunteers support before and during the service.
In order for you to make a meaningful contribution in a community as a volunteer, it is important that developed programs are in place. WAVES works with communities to develop, organize, and carry-out programs that meet community needs and desires. This work requires resources, and the project contribution raised as a volunteer helps WAVES make it possible.
WAVES works hard to make sure volunteers have a healthy and satisfying service while making a difference in the lives of the host community members. Simply put, this is not easy nor inexpensive. Making sure the appropriate programs, services, and infrastructure are in place for volunteer service, the logistics of required supplies, communication and transport, as well as the organization of curriculum, training and safety procedures all require resources.
WAVES encourages all volunteers to organize fundraising activities to support the cost of their service. Check out these fundraising ideas from past volunteers on Crowdrise, Crowdvance, StayClassy, and FirstGiving.
WHAT DOES MY PROGRAM FEE INCLUDE?
100% of your Program Fee is spent in Lobitos and includes the following:
Transportation to Lobitos from the Northern Peruvian city of Talara.

Accommodation in the house of a local family with WAVES staff and volunteers.

Three meals per day.

Pre-project preparation and briefings, email and phone support.

Health and safety management (risk assessments, emergency contacts, first-aid trained staff and first aid kit)

Project management from local and international staff.

Access to WAVES' selection of surfboards during your service.

One group surf lesson per week (in Spanish) with other volunteers.

Participation in one locally guided excursion every two weeks (cave visits, open water fishing, or sea lion/whale watching).
HOW IS MY VOLUNTEER CONTRIBUTION SPENT?
Volunteer Contributions are spent on expenses related to the running of WAVES International. Examples of these expenses include General Liability / Director's & Officer's insurance, communications, and providing the general institutional infrastructure (website, legal registration, etc). It also helps compensate our small team, which we unapologetically strive to provide a livable wage. We value transparency and are proud to have obtained the Platinum (highest available) rating on Guidestar.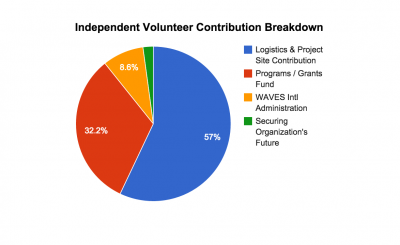 WHAT KIND OF WORK WILL I BE DOING, EXACTLY?
The work you do will depend on your experience and language ability and the current programming needs. WAVES works to make sure we have a good match.
We always have opportunities for instructors and assistants in our Surfing, English, and Environmental Education classes and activities. Work can vary from helping to create  lesson plan materials and delivering a class with our instructors to helping kids sign the attendance sheet, handing out wetsuits and helping our instructor supervise children in the water.
Individual Service Project: Each volunteer staying 4 weeks or longer works with the local team to develop an individual service project. Projects vary based on the volunteers' skills and interests and the needs and current projects of the community. Past volunteer service projects have included: music classes, community beach clean ups, documentary film making with kids, design and construction of a surf shack, environmental curriculum development, educational movie nights, and a recycling project.
WHAT TYPE OF USED OR NEW SUPPLIES CAN I COLLECT AND BRING TO LOBITOS TO HELP THE PROGRAM?
We can always use the following: surfboard leashes, surfboard wax, surfboard fins, hats, kids-sized shirts, English books, plastic drinking bottles, office supplies, paints/brushes, rash vests, cloth shopping bags, multi-vitamin tablets, first-aid supplies, art supplies, yoga mats, sports equipment, sunscreen, tools, notebooks, English/Spanish dictionaries, and kitchen utensils. We are currently seeking additional items for our Environmental Education program: hand-held magnifying glasses, small jars with lids for collecting things, shallow trays for examining things, poker chips for use in games, nature magazines with photos, environmental books, and kid-size binoculars.
DO YOU HAVE INTERNSHIPS AVAILABLE?
WAVES does invite interns to join the team from time to time depending on current organizational and program needs. These positions are unpaid. WAVES is not currently advertising any openings, but if you have an great proposal, we'd love to hear it: info(at)wavesfordevelopment.org.  One inroad into an internship is to volunteer for a month. During that time ideas and needs can be identified and presented.  Attaining internship status qualifies you for reduced and varied living arrangements organized through WAVES and our extensive local network.
CAN I GET CREDIT FROM MY UNIVERSITY FOR CREDIT?
WAVES has worked with past volunteers and their universities to arrange for the volunteer to receive credit for their service or internship. WAVES evaluates requests for academic credit on an case by case basis, taking into account the volunteer's qualifications, interest and area of study, and how they match with the organization's current programming needs. Additionally, WAVES welcomes inquiries from academic programs that are interested in incorporating volunteer service into their curriculum.
PAYMENT INFORMATION
After being accepted, we ask that volunteers make an initial non-refundable contribution to secure their spot. Contributions for (at least) the first two weeks of volunteering are required two weeks before arrival onsite.  Additional weeks Program Fee contributions can be made on site if so desired.  Once WAVES International makes the monthly grant to WAVES Peru, should circumstances warrant a refund, it can only be reimbursed in cash on site.